TTI 4G Magazine Basepad for STI & 2011 Pattern Mags by Taran Tactical
The TTI Base Pad for STI, SV, SPS, & Rescomp Magazine Tubes Use the TTI Base Pad with the TTI spring and TTI Follower for maximum capacity.
This Patented push pin design is indestructible and will not come off until you are ready to remove it. One Piece construction made from solid aluminum, will not break or come loose, which is essential in the heat of competition. This base pad allows the magazine to be disassembled in seconds with one hand and no tools. You don't have to worry about losing small parts or specialty tools to disassemble it.
4mm for STI/SPS/Rescomp 140/170mm tubes.
20rds in 140mm 40S&W
24rds in 140mm 38/9mm.
29-30rds in 38/9mm
4G2 for all SV 140mm 40S&W old and new style tubes.
Possible 21rds in 140mm 40S&W
4mm (4 the Gauge) is recommended for anyone doing mag tuning who has a USPSA mag gauge.
The 4mm is angled in the back and will fit the gauge while allowing one extra round over the 3mm. It's the base pad that all the mag tuners have been waiting for to get that extra edge
- This product is used by World and National Pistol and 3-Gun Champions! Rob Leatham, Max Michel, Shane Cooley, Travis Tomasie, Blake Miquez, Jessie Duff, Nils Jonasson, Chris Tilley, JJ Ricaza, Manny Bragg, Shannon Smith, Daniel Horner, Keith Garcia, Mike Viogt, Maggie Reese, Dave Pruitt, Phil Strader, Mike Seeklander and Ron Avery, Bennie Cooley.
Not for sale to California residents. A courtesy email will be sent to CA residence who place an order for a base pad that has the capability of taking a magazine past ten rounds. Ultimately a refund will be issued. CA residence can only purchase +0 base pads or GLOCK 43 and GLOCK 42 base pads. The 43 and 42 base pads do not take the mag capacity past ten rounds.
*Remove the metal insert at the bottom before installation*
---
Using the table below, you will be able to identify what parts you will need for your given pistol depending on what division you want to shoot.
To use this Table: First, look for what division in which you want to shoot. Second, find the the Tube Length. Third, locate what caliber are you shooting. Once you have found all of identified what parts you are using, you will then be able to see which basepad, spring and follower you will need. You will also be able to tell what capacity you achieve with the given configuration.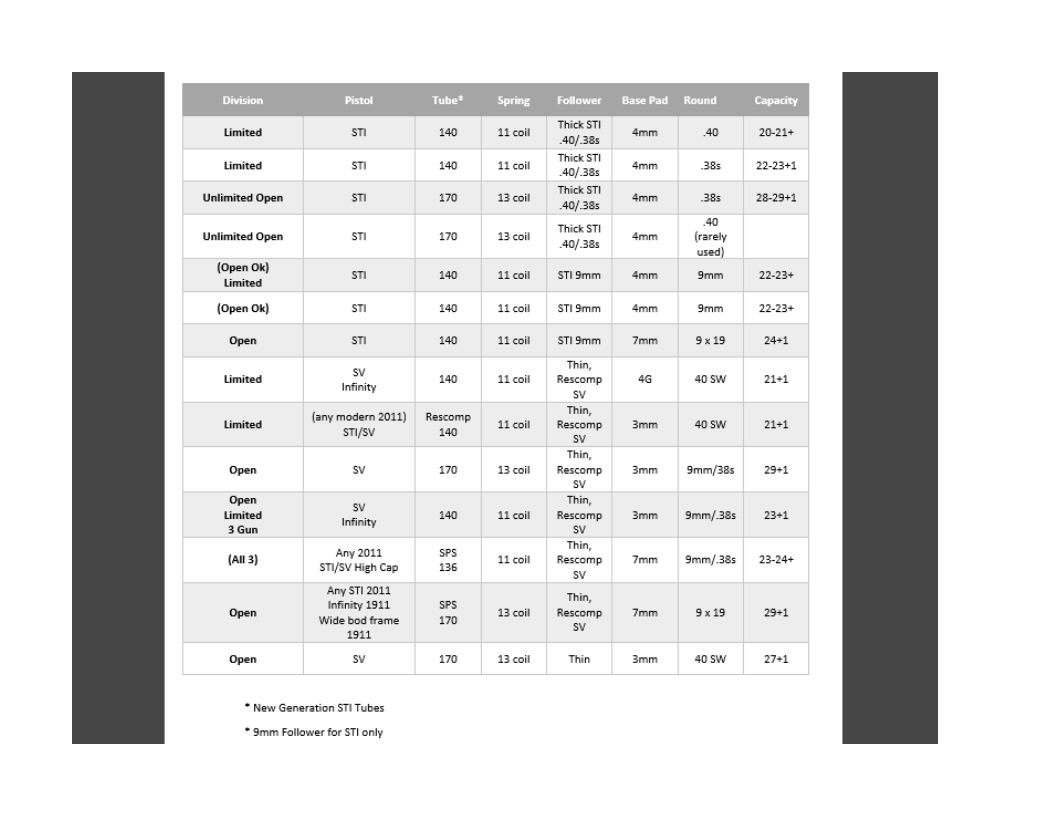 1 Review
Makes your stock mag look cooler while allowing you to reliably add an extra round. Because yes, that +1 capacity is with $33 to us geeks.