Product Description
M&P M2.0 Forward Set Trigger Kit by Apex Tactical (100-167)
What It Does
The Apex Forward Set Trigger Kit directly replaces the factory hinged trigger with a curved solid body aluminum trigger featuring a center mounted pivoting safety that maintains factory safety values. The trigger reduces pre-travel and over-travel from the factory trigger.

The Apex Forward Set Kit is engineered to provide the M&P M2.0 pistol owner with a smooth, consistent trigger pull with the advantages of shorter over-travel and shortened trigger reset. All of the components work together to provide a pull weight within the acceptable range for a top end, service pistol. The kit itself is designed to be drop-in and should not require further gunsmithing, however, armorer or gunsmith installation is recommended.

The full kit reduces trigger pull weight by up to 2 lbs. (approximately). Using a combination of the Apex springs and factory sear and trigger return springs allows the user to set the trigger pull weight within a range suitable for duty/carry down to a weight desired for competition.

NOTE: As of May 15th, 2018, this trigger kit is legal for use in USPSA's Production Division (please see Appendix D4, section 21.6, of the USPSA Production Division rules).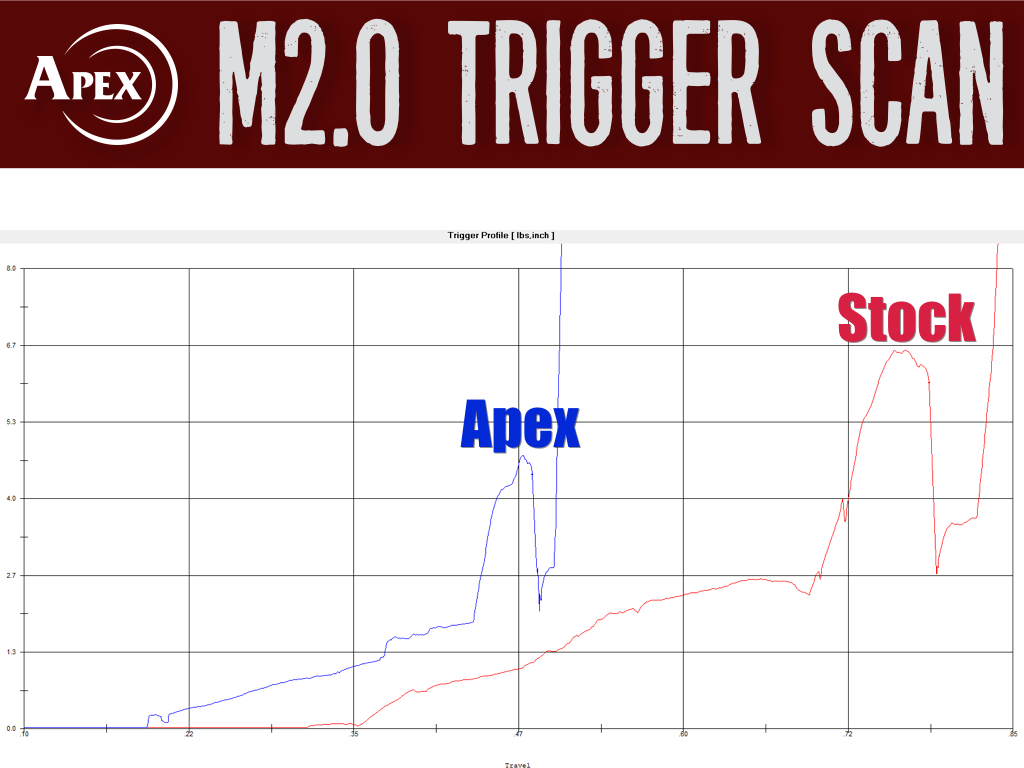 Expected Results
– Reduces overall trigger travel by approximately 40%
– Reduces trigger pull weight by up to 2 lbs. (approximately)
– Delivers crisp trigger break
– Smooths uptake and reset
– Reduces trigger over-travel
– Shortens reset length
– Center mounted pivoting safety maintains factory safety values

Applicable To What Gun(s)
Works with the Smith & Wesson M&P M2.0 (9mm/.40S&W/.45ACP), including the M&P M2.0 Compact, only.

Not for use in the original M&P models.
Not for use in any M&P Shield model.


In The Package
1 ea. Forward Set Trigger
1 ea. Forward Set Sear Actuator
1 ea. 2-Dot Fully Machined Sear
1 ea. Heavy Duty Sear Spring
1 ea. Duty/Carry Sear Spring
1 ea. Heavy Duty Trigger Return Spring
1 ea. Duty/Carry Trigger Return Spring
1 ea. Ultimate Striker Block Kit (Striker Block, Spring and Talon Tactical Tool)
1 ea. Slave pin (assists with installation of trigger return spring)

Installation Resources
M2.0 Flatty Trigger Pull Weight Spring Guide