ELS / Tek-Lok BOSS Plus Dropped & Offset DOH Holster Hanger
ELS / Tek-Lok BOSS Plus Dropped & Offset DOH Holster Hanger

Product Description
Ben Stoeger BSPS BOSS PLUS DOH Dropped Offset Holster Hanger Mount System
This holster is called the BOSS for a reason. Here at the Pro Shop, we get pissed off if our stuff isn't quite right. Every other holster on the market has some problem that we found annoying. So we made our own. BOOM.

This set includes the BOSS DOH holster hanger. This hanger is stable yet adjustable. It holds the gun in USPSA legal position and can be mounted higher in order to be Single Stack legal.

The BOSS Plus model is great for 3-gun shooters who like to have the ability to move their gear around they belt.

You can use the Comp-Tac PLM, Blade-Tech Tek-Lok, Safriland ELS, or the standard BOSS belt mount.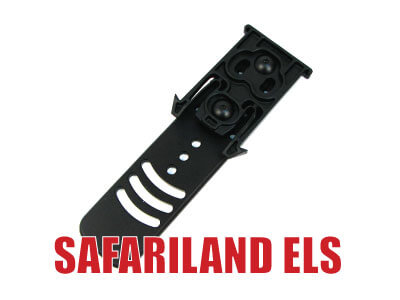 We recommend measuring the spacing of the gun to the belt to ensure it falls within the rules of the sport and division.
Instructions:
1. Attach Y-plate to holster body through three large holes on the

Y-plate using short round-head screws

2. Attach Y-plate to slotted hanger plate using long screws and

spacers (do not install lockwashers yet). Screw heads should be

on the rounded side of the hanger plate, one screw in a center

hole and the other in the corresponding curved slot.

3. Hold belt inside belt plate cutout and install onto main hangar

plate with 4 flat-head screws, solidly mounting holster and hanger

to belt.

4. Test location of holster with unloaded firearm. Adjust to preferred

height and tilt by changing screw positions on the main

hangar plate and Y-plate. Verify position meets rule requirements

5. Mark position of long screws lightly with a pencil and then remove

and re-install the long screws with a lockwasher underneath

the screw heads. Apply threadlocker to all screws.
* Verify firearm position meets appropriate rule requirements
WARNING: This product is intended only for competition use by qualified individuals. Do
not use If you have any questions concerning safe use of this product. Do not use if
firearm is not held securely and safely. Check all screws for security
before each use. No liability is expressed or implied for damage or
injury which may result from use of this product. You are responsible
for the safe handling, ownership and use of firearms. Obtain qualified
instructon if you have any questions concerning safe firearm
handling practices.
Product Reviews
Write Review
solid as a rock

Posted by gan.ryan@gmail.com on Mar 1st 2018

Great construction, easy to install. Would recommend!

Best and only hanger for ELS system

Posted by Unknown on Jul 22nd 2017

I have a Comptac International Holster for a Walther Q5 Match, and had been using a Tek-Lok to mount it, since nothing else would work on the 1.75" Safariland ELS rig. The rig was riding a little higher than I wanted, wasn't canted how I wanted, and worst of all didn't stay put, so I could never practice a consistent draw. After seeing most of my competitors with this hanger at my local matches, I bought one, and was able to attach it to an ELS fork and receiver plate. After adjusting the hanger for cant and height, it is now rock solid and stays put on my belt Exactly where I want it, all the time. I can't believe I waited this long to get one.

One important thing to note, which I learned from a very helpful customer service agent before I bought it... If you are running this rig on the ELS system, you're probably going to need to buy the shorter 1/4" spacers, since the way the ELS attachment system works causes it to push farther out from your belt, and the standard spacers may cause it to break the 2" USPSA rule. This will also make less room for your thumb on the draw (your thumb may hit the top of the ELS plate or the hanger), but I've found it has actually helped me make more room for my support hand to get settled, as my strong-side thumb stays out of the way.

boss hanger

Posted by Tim Oelklaus on Feb 16th 2017

Very nice very solid piece he gets a holster way for your body legal.adjustability is great I put it on a comp-tac holster for a 1911 single stack I like the ability and take it off and on if I wanted to with just a button

This Works Perfectly

Posted by Ben Blankenship on Jan 23rd 2017

This is the best holster set-up for Production, Carry Optics, Single Stack and maybe even Limited divisions in USPSA. I love it. This is my second one. My first is on my Production Div rig, and this new one for Carry Optics. Make sure you use locktite to secure the screws once you're sure of the fit. After that, Go Shoot and Compete with confidence! Thanks Ben!


A nail biter...

Posted by Unknown on Oct 3rd 2016

Rock solid mount with infinite position settings (almost). I do have a small gripe. I'm catching my thumb and thumbnail (ouch) on the sharp edges of the holster hanger (not they y-adapter) on the draw. I have to 'flag' my thumb to avoid this and that isn't a part of my normal draw or grip. I think this part could use some rounding/smoothing of the edges.

Very solid

Posted by Wes on Sep 30th 2016

The Boss Hanger is a much needed upgrade. I use a Blade Tech Black Ice DOH for my CZ Accu Shadow. The stock plastic base with the drop is plastic and I could feel the Holster flop around when drawing my gun. I bought the Boss Hanger to add some rigidity. It has made a world of difference. My draws feel much more solid now. So glad I purchased this.

Works great with my Safariland GLS 578 and ELS belt.

Posted by Sergio M on May 22nd 2016

First, why I gave 4 stars. There was not enough info on the website for me to realize that I needed a Safariland Y bracket for my 578 holster. When I called to find out what I needed to do, they said "send the bracket in and we'll send you the right one". They answered quickly and took care of me. The customer service is great. The drop fits perfectly and keeps my holster in the perfect position. Thanks for a great product!

faster draw time

Posted by Robert on May 6th 2016

This make it a lot easier to grab you pistol. It's not on your hip and you can get your thumb around it and have a full grip of the gun

I should have bought the Boss Hanger longtime ago !!

Posted by Maher on Feb 25th 2016

I started my IPSC matches using a CR Speed belt and a Blade-Tech Holster + a Tek-lok for my Glock 17 shooting in Production. Officers were sometimes complaining about the distance form my hip to the gun being less than the minimum required, warning me that they would put me in the Open group for the next match. I ordered the Standard Mount and Hardware. This Hanger rocks !! Excellent quality. My draw now is easier and faster. Great service and fast shipping to Canada. Kudos to Ben Stoeger !!

Great Product!

Posted by Fernando Barela on Jan 11th 2016

Ran this drop holster this past weekend in 3-gun. Absolutely solid! Great product for the price.
Return Policy
If there is a defect in a product, then the manufacturer warranties the product. We will be glad to pass on contact information for the manufacturer. If we are the manufacturer, we will warranty the product ourselves according to the product warranty.
If there is an error in shipment, such as we shipped a product different than what you ordered, we will reship the correct product to you at no charge upon receipt of the incorrect product. The product must be received new, unused and in original packaging. Please call us immediately and we will try to work out a satisfactory solution.
If you decide to return product for reasons such as "didn't like it, can't use it", then we will exchange the product for another product of equal value. The only charge to you is the shipping. Returns of this kind will be done as long as it is within 30 days and the product is unopened and unused.
All returned items must be within 30 days, be unused, uninstalled and still in original packaging. Special order or clearance items are not returnable. Upon return we will issue you a gift certificate in the amount of the items returned. You will be emailed a code that can be used for payment on future orders. You may instruct us to refund your credit card minus the shipping and 20% restocking fee if that is your wish. .
Any return must be authorized by us. If not it may be refused. Even if we accept the package accidentally it is not considered returned without previous authorization.
Shipping Policy
It is very important that you verify all information is correct, especially the address. If the address provided is incorrect and FedEx charges an address correction fee or if the package is returned, you will be billed for the additional charges. You agree to this by placing an order with us. FedEx charges address correction fees of $11.00 for ground and $16.00 for air packages. We reserve the right to pass those charges on to you as an added shipping charge if you provide wrong address information. Wrong information can be a incorrect zip code, city, street number, suffix (Dr., St., Rd., etc) or even a misspelled street name. Failure to provide suite, apartment, etc is also cause to be assessed an address correction charge. If a shipment is not delivered to the address you provided in the order, or refused, then upon return it will be treated as a return with shipping charges and restocking fee applied. If UPS is selected, they charge shipping on the return trip as well. These charges will be applied to the refund on the order.
Also sometimes we get inquiries as to shipping small items by first class mail. We are required to ship with tracking and insurance by the credit card companies. You may choose to accept all the risks of loss and damage and not get insurance if you wish to prepay but if you use a credit card we will have to ship it with insurance.
We often get requests to leave packages in specified places with no signature. We do not require a signature. The driver may at his discretion require a signature. This usually depends on past history in that area. If they have had packages missing in the area they will not driver release. We can stipulate driver release but then there is no insurance once they leave it. If you are willing to accept the risk then we can stipulate driver release. That means if something happens after the driver says it was delivered you will have no recourse and will loose it. Let me know if you want to release the delivery company of the responsibility and assume the risk yourself. We will process as ordered unless we hear back from you before pickup. You can state in the Customer notes "I request Driver release and assume all risks for package being stolen from delivery point"
The cut off time for FedEx is 2:00 CST our pickup is scheduled for 2:30 CST and we will do everything possible to get your order out that day if its placed before FedEx picks up. The cut off time for USPS is 1:00 CST our pickup is scheduled for 1:30 CST and we will do everything possible to get your order out that day if its placed before FedEx picks up. Please consider these times when choosing the desired service and how it will affect the delivery day you require.
Errors and Express Shipping- We strive to be error free but we are human and sometimes they do happen. If it happens please notify us at once. Upon determination we goofed we will send out the replacement product immediately with a return label to return the goof. Now the item returned must be unused and still in the packaging to be able to return it so please check your items when you receive them. Unfortunately when these errors happen it seems to always be when the customer has the order sent with an express method such as 2 day or next day. In this instance we can not be responsible because of a deadline that we have no control over. Such as needing it for a match on the weekend and the product was delivered on Friday. We can not be expected to pay Next Day Air or Saturday Delivery charges to fix. We will fix it , and pay for shipping both ways, but using regular Ground or priority mail shipping. Because of this we do make it part of the procedure to triple check Air packages, even then sometimes a small detail may be overlooked. Please understand the order itself and the shipping method are two separate entities. We cannot be responsible for not do we guarantee the circumstances or consequential issues related to the order and express shipping. If you order an item on Thursday for a next day Friday delivery or 2 day on Wednesday for Friday delivery and it doesn't get there on time and its the shippers fault we will apply for a service refund and refund you for the shipping amount. We will not reimburse or refund for any other consequential cost of not receiving that item when you expected it. If you expect that , please do not order from us using an express method. This also applies if we sent the order and there was an error on our part, we have very few, but they do happen. We will correct the error but we cannot be expected to rent a jet airplane to fly you your correct item in time for your need. If you expect that , then please do not order from us. I suggest if its that important that you allow us to send the item to you in plenty of time.
International Orders
We can not and will not ship gun parts out of the USA. If you order a part or product that is not allowed we will remove it from your order and ship the remaining allowable items. We reserve the right to correct shipping methods and costs for what is appropriate to your order and destination. Once an international order reaches the destination country, we can not be responsible for any issues with your customs agency. It is your responsibility to make sure what you ordered is allowed by customs, and it is your responsibility to deal with your customs agency. .
If you place an order and ask us to falsify the customs documentations with a lower value or content description we will ignore that request and process the order legally.
It is imperative that if you order a restricted item, most all gun parts, especially things like barrels and slides, and you choose to ship it inside the USA, then you must only export them using legal exporting services. Doing exports without going through these channels can lead to penalties, prosecution, forfeiture or any combination of ramifications. We do cooperate with Law Enforcement in connection with any illegal activity. Please order with this in mind if you plan to export, please do so legally. If you are going to use the items when participating in competitions in the USA this may not apply, but may if you decide to take it home with you. Please consult an export service if doing so.
Firearms Laws
BenStoegerProShop.com abides by all firearms laws. It is ultimately the buyers responsibility to know the laws in their jurisdiction and their responsibility not to order a product that would put them in violation with any local laws.
Find Similar Products by Category